Supporting your MPS II journey
ELAPRASE dosing and infusion set up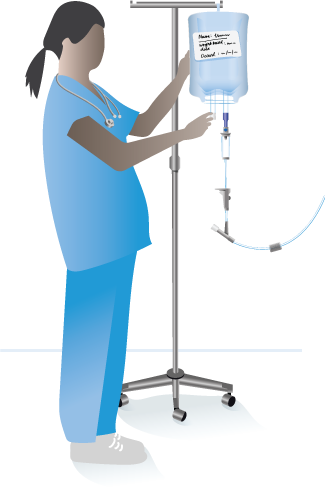 The dose of ELAPRASE given depends on your weight, so you should be regularly weighed to calculate the optimal dose. ELAPRASE is a weekly infusion therapy, which means it's given intravenously (by IV).
To receive ELAPRASE therapy, you will have to go to a treatment center every week. At the treatment center, a healthcare professional will administer the therapy and can answer any questions you may have.
Typically, the infusion can take up to 3 hours, but patients may require longer infusion times if hypersensitivity reactions occur. There also may be additional time for preparation and observation. Your healthcare provider can give you more details about what to expect and can help you plan ahead.
Each infusion center has its own guidelines about what patients are permitted to do while undergoing therapy, and it may be OK to engage in a quiet activity, such as reading a book, watching TV, or doing homework. Check with your treatment center before you arrive to find out what activities are acceptable.
Patients who tolerate the infusions well may be able to gradually shorten infusion time to 1 hour.
Where permitted by local healthcare and reimbursement policy, patients who tolerate ELAPRASE infusions well over several months may be able to receive infusions at home under the supervision of a healthcare professional. Speak to your doctor about home infusions.
As with any new experience, the ELAPRASE infusion might be unfamiliar at first, or the process might even make you nervous. Talk to your doctor about any concerns you have.